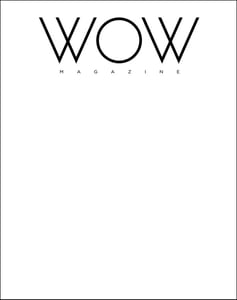 €

20.00 - On Sale
Subscribe for 1 year to Wow Magazine:
2 issues per year, delivered directly to your door.
Shipping: 10-14 days
#1, shipped from june 23 - SOLD OUT
#2, shipped end of november 2011
#3, shipped in march 2012
…
Please tell us with which issue you would like your payment to start in the "message" part of the payment page.
Payments are secured by Paypal: you can pay either with your paypal account or your credit card.
Abonnez-vous pour 1 an à Wow Magazine:
2 numéros par an, envoyés directement chez vous.
Envois: délai d'environ 7 jours
#1 - envoyé à partir du 27.06.11. - SOLD OUT
#2 - à partir de fin nov. 2011.
#3 - à partir de mars 2012.
…
Indiquez-nous à partir de quel numéro vous souhaitez débuter l'abonnement dans la partie "message" de la page de paiement.
Les paiements sont sécurisés via Paypal: vous pouvez régler soit avec votre compte paypal, soit avec votre carte bancaire.